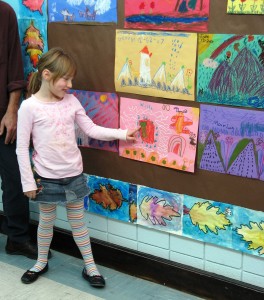 ArtWorks promotes skills closely associated with the Common Core, a set of high-quality academic standards in mathematics and English language arts/literacy sponsored by the National Governors Association and the Council of Chief State School Officers. These learning goals outline what a student should know and be able to do at the end of each grade. The standards were created to ensure that all students graduate from high school with the skills and knowledge necessary to succeed in college, career, and life, regardless of where they live. Forty-three states, including New Mexico, the District of Columbia, four territories, and the Department of Defense Education Activity have voluntarily adopted and are moving forward with the Common Core.
The following are examples of Common Core Standards, by grade, covered in ArtWorks units of study as reported by participating Santa Fe Public School teachers.
K: Counting and cardinality-counting steps in the dances (math); vocabulary acquisition, how to participate in a discussion, expression of opinion.
2: Core standards Higher Order Thinking Skills and Questioning were involved in all discussion before, during and after the museum visit. Core Standards of compare and contrast, creating, analyzing.
3: These lessons addressed many of the English Language Arts literature standards. Specifically, students improved reading comprehension and fluency by reading and discussing a variety of poems. Students went through the writing process by analyzing poems and then using similar figurative language strategies in their own poems. Students strengthened their listening skills through author's chair (listening and giving feedback to classmates' poems) and at the poetry reading.
4: Joan seamlessly incorporated lessons about alliteration and similes into her workshops. She addressed standard 4.RL1, which is to cite evidence in the text when making a claim about the text.
7 & 8: RL.2/3/4.1 Ask and answer questions to demonstrate understanding of a text (artwork), referring explicitly to the "Visual" text (artwork) as the basis for the answers. Tell who, what, when, where, why.