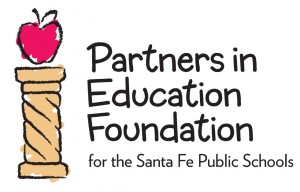 ArtWorks is a program of the Partners in Education Foundation for the Santa Fe Public Schools. Partners is an independent non-profit organization that links the community (citizens, businesses, nonprofits and government agencies) with its public schools in productive partnerships. Partners in Education serves Santa Fe's publicly funded primary and secondary schools: the New Mexico School for the Deaf, the Santa Fe Indian School and the Santa Fe Public Schools.
Partners in Education works to effect positive change in the schools by working directly with teachers. Partners in Education continuously seeks to improve education in Santa Fe by providing ways to achieve creative, cost-effective and innovative solutions to educational problems.
Partners in Education Foundation Staff
Ruthanne Greeley, Executive Director
Erin De Rosa, ArtWorks Program Director
Shelley Cohen, Office Manager and Field Trip Coordinator
Larry Spiegler, Teacher Warehouse Manager
505-474-0240
info@sfpartnersineducation.org
www.sfpartnersineducation.org
PO Box 23374, Santa Fe, NM 87502
Partners in Education Foundation Board
Keith Burks, Chair
PNM
Tricia Gunter, Treasurer
First National 1870
Tom Kellogg, Secretary
Hospitality Executive
Emily Garcia
Sotheby's International Realty
Ned Jacobs
Quezada Jacobs Family Agency – Allstate
Christopher Leslie
Pandemonium Productions
Joan Shandler
Educator
Denise Thomas
Denise Thomas Law, P.C.
Ex Officio 
Veronica Garcia
Superintendent, Santa Fe Public Schools
Kate Noble
Santa Fe Public Schools Board of Education