The New Mexico Museum of Art is a catalyst and showcase for creativity and the enjoyment of art. Artists, learners and community members are empowered to think critically and see a multiplicity of meanings. The New Mexico Museum of Art brings the art of the world to New Mexico and the art of New Mexico to the world. This year, ArtWorks is partnering with NMMA on two exhibits to chose from.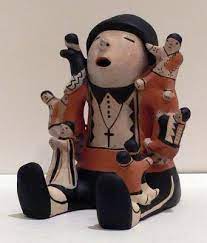 1. Storytellers: Narrative Art and the West This exhibition explores the various ways artists have told stories about the Southwest in their work, including illustrations of historic events such as Diego Romero's images of the Pueblo Revolt, and paintings of local religious ceremonies a la Henderson's Holy Week in New Mexico, ruminations on spiritual traditions as in Partocinio Barela's Last Supper, reflections on modern art, as shown by John Sloan or Gustave Baumann, Sloan's and Gina Knee's comical lampoons of contemporary society, or iconic images of the West inspired by pop culture, as seen in Dunton's "Illustration for The Fair in the Cow Country" and Billy Schenck's pop cowboys. More information here.
2. Southwest Rising: Contemporary Art and the Legacy
of Elaine Horwitch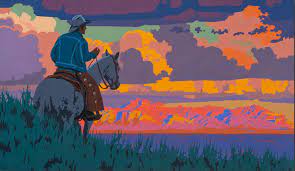 Art dealer Elaine Horwitch was a major force in contemporary art in the Southwest from the early 1970s until her death in 1991, responsible for launching the careers of hundreds of artists from the region. With galleries in Scottsdale, Santa Fe, Sedona, and Palm Springs, she was a leader in fostering what has been called "new Western art" or "Southwest pop."
This exhibition highlights the works of some of the Elaine Horwitch Galleries' most popular artists. Drawn from the New Mexico Museum of Art, these paintings, sculptures, and works on paper reveal the breadth of art and innovation that occurred in the Southwest at a pivotal time of change. Featured artists include: Tom Palmore, Billy Schenck, John Fincher, James Havard, Fritz Scholder, Georgia O'Keeffe, Louise Nevelson, Robert Rauschenberg, Larry Rivers, and Bob Wade. More information here.