1. Shonto Begay: Eyes of the World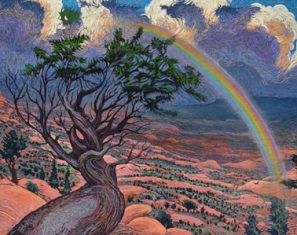 Shonto Begay: Eyes of the World features the work of Navajo Neo-Impressionist artist Shonto Begay. Autobiographical in nature, his paintings visually narrate his connection to the Navajo landscape, personal histories, and cosmology.
A well-known figure in his community, Shonto advocates for environmental awareness and indigenous perspectives through participation in local poetry readings, engagement in youth mural projects, and storytelling.
Shonto's voice resonates throughout the exhibition, poetically complimenting individual artworks with in-depth storytelling and reflections on life, furthering the viewer's understanding of art as an activity that creates objects of healing, beauty, and peace in a troubled world. More information: https://wheelwright.org/exhibitions/shonto/
2. Indigenous Women: Border Matters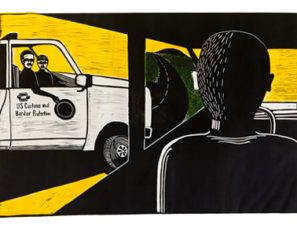 Indigenous Women: Border Matters features a timely look at four Indigenous women artists who speak to issues on both sides of the U.S. border.
Their practice is guided by contemporary issues of identity, self-determination, human rights, and the impacts on the human experience. The works explore and question how Indigenous women interact with the land we inhabit. The layering of symbolism, meaning, deconstructing concepts, including memory, cultural heritage, and politics, form the basis of the exhibition by artists Makaye Lewis (Tohono O'odham), Daisy Quezada Ureña (Mexican-American), M. Jenea Sanchez (Latinx), and Gabriela Muñoz (Latinx).
More information here.
Please note this exhibit is best suited for grades 3 and up.